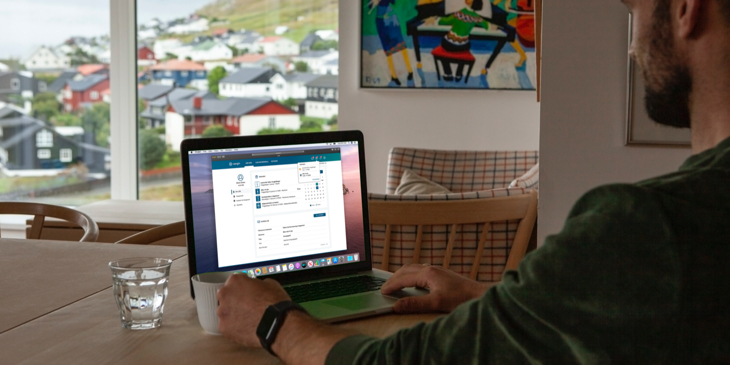 About Vangin
Vangin is a new faroese service from Talgildu Føroyar, that gathers digital services from public institutions and municipalities. Vangin makes it easier, faster and safer to manage your affairs.
Vangin offers you:
Overview over your recorded personal data
Personal calendar showing appointments and deadlines
The possibility to file applications to service providers
Safe communication through Mínboks
Mínboks is your personal mailbox, where multiple service providers can communicate directly to you.
An overview of service providers using Mínboks can be found by following the link below.
Service providers that use Mínboks
Receipts and other information from Vangin can be found in your personal Mínboks. This helps you get an overview of your affairs.
Mínboks provides direct communication to service providers on Vangin. Mínboks makes sure information is communicated to the right place safely and swiftly.
You will also be notified in the top right corner on Vangin, when receiving mail in Mínboks.
Vangin provides a personal calendar. Service providers can send dates for your appointments and deadlines to your calendar.
You have the possibility to postpone and change the day and time of your appointments in your calendar.
Your children's appointments will be registered in your calendar if you have children under the age of 18. Every child is marked in its own color to make it easier for you to differentiate.
You will be notified in the top right corner on Vangin when new appointments are sent to your calendar.
Service Providers on Vangin provide a wide range of self services for you to use. For example, you are able to apply for travel subsidy from TAKS, building permit from the municipality or financial aid for students through Studni.
Self services on Vangin are quick and easy to use. You will receive a certified copy functioning as a receipt in Mínboks when your application has been processed.
An overview of self service options can be found at each service provider or by going to self service.
Your personal data on Vangin is solely available to you.
You are the only one with access to your personal data. Service providers do not have access to data from other providers. Data will not be combined without your consent.
Vangin does not obtain your data but gathers it from other service providers when logged in.
Each provider administers data available to you when logged in to Vangin.
Vangin makes sure data is registered and processed where they originally were obtained and where they naturally should be stored.
Communication system Heldin secures easy, safe and swift connection between IT-systems from different providers.
See video below on how your data is secured and managed through Heldin.
Service providers using Vangin have their own service providers page.
See service providers in top left corner.
On the page you can see
• Service provider
• Selv services available
• Your registered data
• Personal affairs
• Contact information
Service providers manage the service providers pages. Thus, the information is provided by them.
Terms and Conditions for Payment of Digital Signature
The digital signature using Samleikin has the same legal effect as a hand-written signature. In some cases the citizen has to pay for the signature themselves. Read about the payment terms and conditions for the digital signature below.